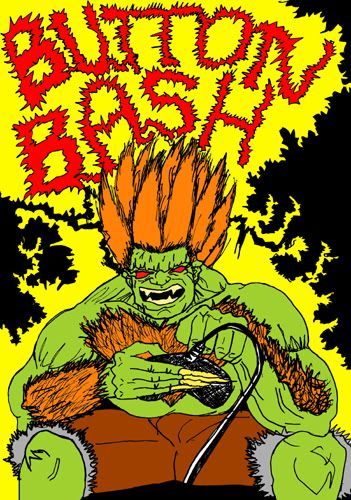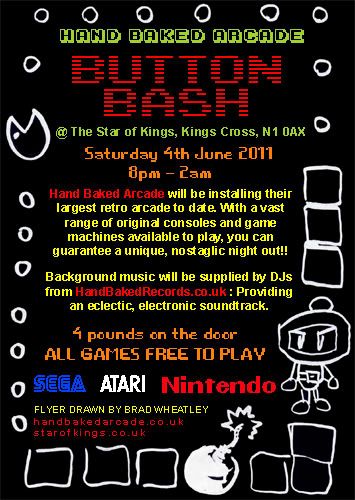 Hand Baked Arcade are at it again, this time with their event called BUTTON BASH! Their retro gaming haven has found a new home at the Star of Kings in Kings Cross and their largest installation to date is to be open from 8pm – 2am on Saturday the 4th of June. This Pub venue is a great size and layout with enough capacity for a whole range of consoles and games machines never before seen at a Hand Baked Arcade event.
This time round expect to see all the usual suspects:
Mega Drive
SNES
Master System
2-Player Arcade machine
Atari 2600
Gameboy's
Binatone Sports System Mk10
Leiro Machine
+ new playable setups including:
N64 now added!
NES
Sega Game Gear
Doom Multiplayer Deathmatch (tbc)
Sega Saturn (10 player!) Bomberman
homebrew corner featuring Orbital Snake by RJB Software
The Hand Baked Arcade are well known for their FREE to play arcade events across the UK. Installations have previously been seen at many of the best music festivals including Glastonbury, Glade & Bloc Weekend. Although they have also been seen in countless night clubs, art galleries and even on The Gadget Show, Channel 5.
Their last installations in Leicester Square and Farringdon were road blocked with eager punters so the venue size has been stepped up to allow the friendly, relaxed gaming vibe that Hand Baked are well known for creating. Expect as always to see many screens from small TV's through to multiple video projections.
Background music will be supplied by Hand Baked DJ's: lo-fi, underground, crazy, wonky, eclectic and electronic will be served up to help you BUTTON BASH!
So get down to the venue early, get the pints in and let nostalgia run through your veins, The Hand Baked Arcade is back in town!
** £4 on the door, all games FREE to play **
PRESS RELEASE CAN BE SEEN HERE:
www.handbakedarcade.co.uk/extrafiles/HandBakedArcade_ButtonBash.pdf
FACEBOOK EVENT:
https://www.facebook.com/event.php?eid=126299084111729
:: FLYER DRAWN BY BRAD WHEATLEY, COLOURED BY TOM HUMPHREY ::