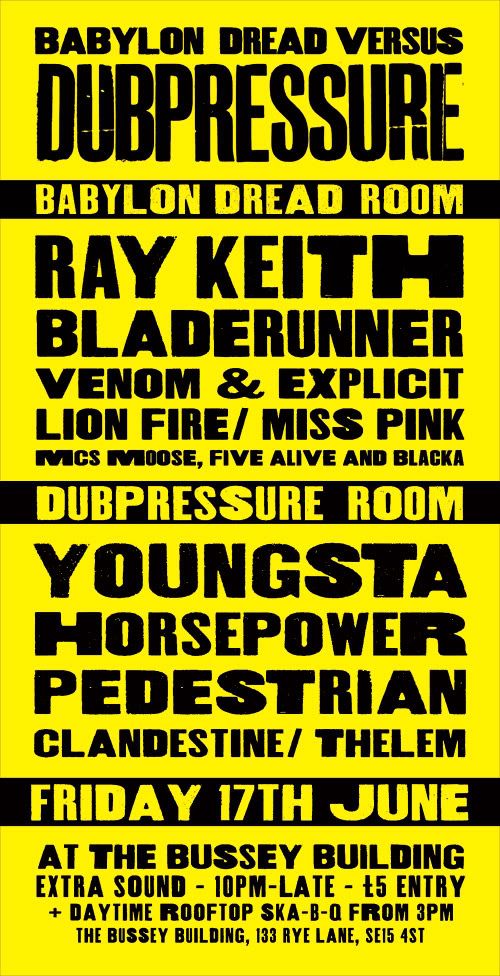 DUBPRESSURE vs BABYLON DREAD
FRIDAY 17th JUNE @ the Bussey Building
£5 BEFORE MIDNIGHT!
DUBPRESSURE ROOM powered by Abacus:
YOUNGSTA
HORSEPOWER
PEDESTRIAN
CLANDESTINE
CORE
THELEM
+more
BABYLON DREAD ROOM powered by Opus:
RAY KEITH
BLADERUNNER
VENOM and EXPLICIT
MISS PINK
LION FIRE
WE ARE DUBIST
MCs: MOOSE / FIVE ALIVE / BLACKA
ROOFTOP BBQ FROM 7-10PM
A quite simply ridiculous line-up of the deepest, darkest Dubstep and Jungle going- on massive systems- in south Londons finest warehouse venue- for FIVE POUNDS. What's not to love?
Bussey Building , 133 Rye Lane, SE15 4ST
7pm-6am
FACEBOOK GROUP:
http://www.facebook.com/event.php?eid=127383477342372