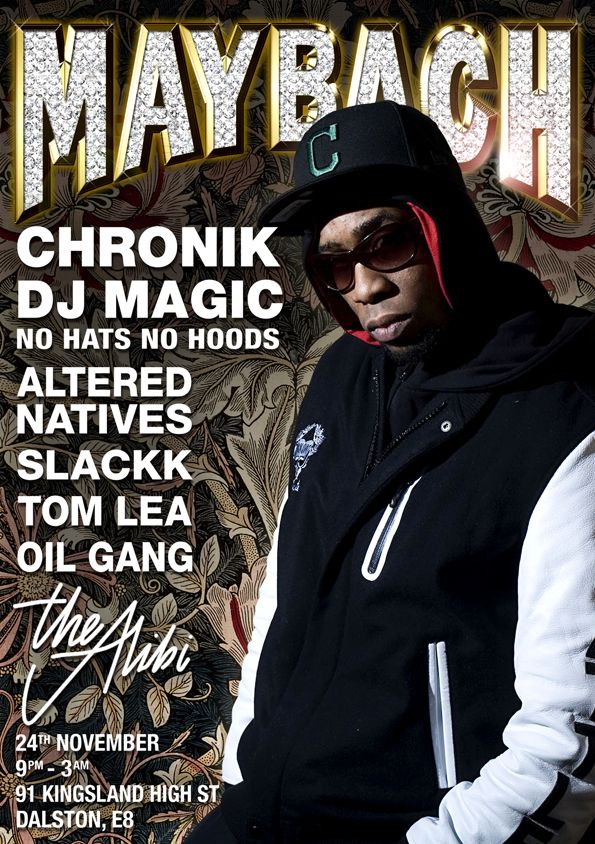 FREE ENTRY
Chronik & DJ Magic (Slew Dem/No Hats No Hoods)
Slackk
Altered Natives
Tom Lea
Oil Gang
Saturday 24th November, 9pm - 3am
The Alibi
91 Kingsland High St, Dalston, E8
https://www.facebook.com/events/344329262331187/
Chronik really shouldn't need much introduction if you share our taste in aggro grime and rap but in case he does, just look at what happened last time he was down at the alibi:
Obviously we're all massive fans of Slew Dem here at Maybach- as you're no doubt aware from the Spooky set we had down here a few months ago and this one should he even better than that. Chronik is in a rare vein of form lately and you should definitely watch these videos to get you in the mood:
Joining Chronik for the set we have the impervious DJ Magic from No Hats No Hoods. Magic's been banging out great sets since the early Dirty Canvas days and as head of the longest running grime label- and one of the most consistent at that- we're glad to have him down.
Alongside those two we have the usual residents that you should all know by now playing a load of gully shit and throwing the booze back like its the end of the world.
It's free, drink is cheap and it's better than everything else that night so there's no excuse not to come.
Last edited: