I'd heard about this stuff a while back, but people keep naming tunes and records after it so I keep coming back to it - it's pretty fascinating.
Vantablack is a material developed by Surrey NanoSystems in the United Kingdom and is one of the darkest substances known, absorbing up to 99.96% of visible light (at 663 nm if the light is perpendicular to the material).

The name is a compound of the acronym VANTA (vertically aligned carbon nanotube arrays) and the color black.
Being the darkest material, this substance has many potential applications, including preventing stray light from entering telescopes, and improving the performance of infrared cameras both on Earth and in space.

Vantablack may also increase the absorption of heat in materials used in concentrated solar power technology, as well as military applications such as thermal camouflage. Its emissivity and scalability support a wide range of applications.

In addition to directly growing aligned carbon nanotubes, Vantablack is made into two sprayable paints with randomly-oriented nanotubes, Vantablack S-VIS and Vantablack S-IR with better infrared absorption than the former. These paints require a special license, a temperature of 100–280 °C, and vacuum post-processing. Surrey NanoSystems also markets a line of non-nanotube sprayable paints known as Vantablack VBx that are even easier to apply.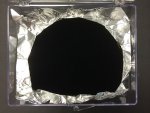 Last edited: