The Quietus just published something for the 50th anniversary of
Ubik
which isn't particularly great, but has a little quote I like about an experience he had with a beetle as a kid.
An early incident from his third-grade year provided a sense of enlightenment that shaped the empathic intelligence Dick later utilised so successfully in his writing. The young Phil was tormenting a beetle that had hidden in a snail shell. As Lawrence Sutin relates in his PKD biography, Divine Invasions:

"He came out, and all of a sudden I realized - it was total satori, just infinite, that this beetle was like I was. He wanted to live just like I was, and I was hurting him. For a moment I was that beetle. Immediately I was different. I was never the same again."
As Philip K Dick's Ubik turns 50, Sean Kitching assesses the legacy of science-fiction's greatest seer, a man who looked for God in the ephemeral detritus of American pop culture
thequietus.com
I've only ever read
Do Androids Dream of Electric Sheep?
and it's possibly the worst book I've ever read along with
On the Road
but his ideas were brilliant; I loved that Crumb strip on his religious experience with the pink rays too. Also this cover for
The Zap Gun
's been stuck in my head since seeing it on my dad's shelf about twenty years ago, no clue what it's about - presumably a "zap gun" - but that image just grabbed me and never let go...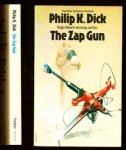 Sometimes it merges with Black Sabbath's
Technical Ecstasy
.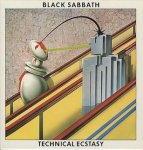 luka, didn't you say you recently read or reread
Ubik
?
Last edited: