This is inspired by the (current) last page of the 'Strange American Things' thread, though I thought it might be dragging it off-topic to post it there…
What are the dodgiest T-shirts you've seen? Have you ever worn one? And if so, what was the reaction?
When I was about 19 I went out wearing an Irish Freedom Movement T-shirt: the front was a photomontage of a squaddie kneeling and aiming a gun at a yelling Republican protester, with OUT in massive green letters, and NOW! on the back. My older brother gave it to me with the advice "Seriously, don't wear it out" – but huh, what did HE know? Sure enough, I ended up in a lock-in in South London after an uncomfortable evening of stares, and two people started grilling me "What's this about?"
I also wore a St Pauli T-shirt in a Rangers pub for a dare, which was…interesting.
Seems insane post-9/11, but not a big deal back then: I had a Rednek (defunct London T-shirt company) one with a Hezbollah guy with an RPG launcher and the Action Man logo, changed to FACTION MAN, and, underneath, TERRORISM – JUST DO IT. Saw Joe Strummer play in Brixton in '99 and wore that without a jacket, and even had a few drinks at Victoria Station afterwards – nobody batted an eyelid. I don't think anyone gave a shit about the Middle East then, but anything related to The Troubles was dynamite. I had a few Rednek T-shirts, including the one with the crying girl and copper comforting her, with MUMMY SAID DON'T TALK TO BASTARDS in child writing. Never had the TWA (Terrorists With Attitude) plane hostage one, though – which looked ace.
Think the two worst I've ever seen –as in, wasn't worth the risk of dealing with customs bringing them back – were a T-shirt of Bin Laden's face on sale in Chatuchak Market in Bangkok, and one in Japan so dodgy I would have been killed within minutes of wearing it on any UK street (think noncery) with BABY FUCK in big letters. I do wonder about some of the early '80s power electronics crowd wearing Ian 'n' Myra T-shirts. And I remember reading about some kid who got arrested and charged for wearing a Pork Dukes 'Bend and Flush' T-shirt in the '70s, which had a cartoon of a pig getting a blow job. Speaking of which, I missed out on one of these a few years ago…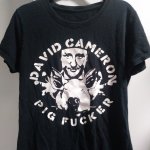 Anyway, I'm rabbiting on…over to you…