Uffington Church is 800 years old or so. When I was in Canada I remember seeing a sign in Vancouver saying that it was founded in, I dunno, 1810 it was. It suddenly made me aware of the contrast behind a tiny village that can be there for more than a 1000 years without fundamentally changing, and a modern metropolis that can spring up in a fifth of that time without even trying. Something strange there.
Anyway, nowadays (or last time I went back) they started lighting up the church in Uffington from underneath with powerful white lights which made it visible as this kind of spectral presence from miles around. Quite creepy.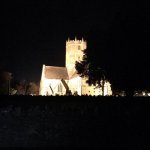 You see the links between pagan and Christian stuff. What's that film? Is it called Borderlands?