"A tree is a wondrous thing that shelters, feeds, and protects all living things. It even offers shade to the axmen who destroy it."

"We've learned a little about a few of them, in isolation. But nothing is less isolated or more social than a tree."

"For there is hope of a tree, if it goes down, that it will sprout again, and that its tender branches will not cease. Though the root grows old in the earth, and the stock dies in the ground, at the scent of water it will bud, and bring forth boughs. But man, man wastes away and dies and gives up the ghost, and where is he?"
--------------------------------------------------------------------------------------------------------------------------------------------------
Plants talk to each other using an internet of fungus
As a result of this growing body of evidence, many biologists have started using the term "wood wide web" to describe the communications services that fungi provide to plants and other organisms.

"These fungal networks make communication between plants, including those of different species, faster, and more effective," says Morris. "We don't think about it because we can usually only see what is above ground. But most of the plants you can see are connected below ground, not directly through their roots but via their mycelial connections."

The fungal internet exemplifies one of the great lessons of ecology: seemingly separate organisms are often connected, and may depend on each other. "Ecologists have known for some time that organisms are more interconnected and interdependent," says Boddy. The wood wide web seems to be a crucial part of how these connections form.
http://www.bbc.com/earth/story/20141111-plants-have-a-hidden-internet
--------------------------------------------------------------------------------------------------------------------------------------------------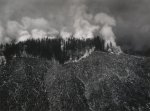 Last edited: