Anyone seen this? A few people on Twitter took issue and RA posted about it.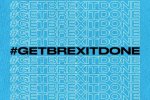 https://twitter.com/Conservatives/status/1186553022291283968
The UK Conservative Party has posted a pro-Brexit clip that looks unsettlingly like a party promo graphic.

The "#GetBrexitDone" video quickly received criticism for using music and imagery tied to a more radical underground culture to promote Brexit, which would directly (and likely, negatively) impact the scene it's mimicking. Mat Dryhurst, Mina, and Butterz' Elijah are among those calling out the contradiction.
Conservative Party using club music sounds, aesthetic and language to try and gather support for Brexit. Told you it would get stranger. Buckle up.

https://t.co/cbf07ty6XH

— Mat Dryhurst (@matdryhurst) October 22, 2019
The music was acquired via production music label Epidemic Sound. It boasts having "the world's largest library of royalty-free music," totalling "30,000 tracks... created with the sole purpose of enhancing audiovisual productions."
Plz tell me you are not rebranding the end of freedom of movement with upbeat music and catchy slogans as if it's something cute and fun lol. Weirdos ������

https://t.co/ytZuwnocGP

— �� MINA �� (@minamusicuk) October 22, 2019
I speak to artists every day about the fear of being copied / replicated etc. The worst thing that could happen is an idea taken and used for a political campaign. This is horrible
— Elijah* (@Eli1ah) October 22, 2019