The way the map's revealed in RDR2's really getting me atm. The idea of all that stuff just sat out there, unmarked, but perfectly accessible if you're willing to just ride out into it. It wasn't like that in some of the older GTA games. The map was all there, but you couldn't physically access it all due to damaged bridges, story-reliant events and so on.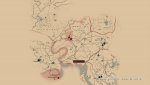 It's a relatively new mechanic given how young that sort of game is, but it's managed to worm its way into my head as a template and analogy for certain things. Those notes of McLuhan's on Burroughs which have come up a bunch of times are a decent example. When I first read them it was like it was all already there, the map had just been fogged out until that point. I already knew what he was saying on some level, I just hadn't been able to articulate it or connect the dots.
There I go, a new idea has taken residence in my mind, re-writing the code of my worldview.
This is something I find perhaps equal parts unsettling and exciting. That sense of "fuck, this was there the whole time?", the table flipping, the board spinning. The example I bump into most frequently is when I come across an author I've never heard of and assume they're a footnote because I haven't heard of them. A fair few times I've completely misjudged someone and had to re calibrate. I did it with DeLillo when I first heard of him, assumed he was just some rando - luka will probably maintain that he is - only to find out he was considered some sort of great.
The first point - the idea that you already knew, you just hadn't uncovered that part of the map yet - is probably the more interesting, if any of this is, but the latter interests me too. There's a bit in one of the old Burial interviews where he's going on about how he covered everything in crackle, just wanted to make UK stuff that sounded like pirates etc then Kode9 sent him a CD of Basic Channel and Pole and it completely threw him off because it wasn't what he thought he was doing or wanted to be doing at all.
One of the most illuminating experiences I had as a child was cracking a joke about some company having the word 'vivid' in their name thinking it meant the complete opposite of what it actually meant and my mum just staring at me. I couldn't understand why it wasn't funny until sometime later I found out what it actually meant and felt like I'd had the rug pulled out from under me, I think it was probably the first time I'd had something I absolutely
knew
was true turn out to be false and it threw me for a loop. Also the fact it was something mundane I'd taken for granted rather than finding out Father Christmas isn't real or whatever, the idea that language could be 'wrong' or distorted like that was an eyeopener.
If as Burroughs says reality is a constant scanning pattern then those are moments when it's radically reassembled
It can definitely feel like this, even with something as trivial as finding out the actual meaning of a word you've been misusing. The Lego pieces reassembling.
Last edited: