***********************************************
* 150+ Acts / Theme / Takeovers now announced! *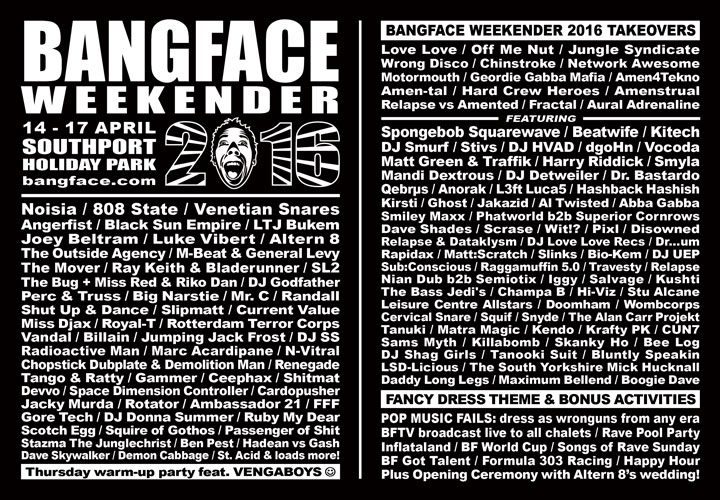 BANGFACE WEEKENDER 2016
14+15-17 April @ Southport Holiday Park
http://www.bangface.com/events/weekender2016
Noisia
808 State
Venetian Snares
Angerfist
Black Sun Empire
Joey Beltram
LTJ Bukem
Luke Vibert
Ray Keith vs Bladerunner
The Outside Agency
M-Beat & General Levy
Altern 8
SL2
DJ Godfather
The Mover
The Bug + Miss Red & Riko Dan
Perc & Truss
Slipmatt
Shut Up & Dance
Mr. C
Miss Djax
Billain
Current Value
Rotterdam Terror Corps
Randall
Big Narstie
Royal-T
Chopstick Dubplate & Demolition Man
DJ SS
Gammer
Radioactive Man
Marc Acardipane
Renegade
Vandal
Jumping Jack Frost
Shitmat
Devvo
Jacky Murda
Ceephax Acid Crew
Space Dimension Controller
Cardopusher
N-Vitral
DJ Scotch Egg
Passenger of Shit
Ambassador 21
Rotator
Tango & Ratty
Gore Tech
FFF
DJ Donna Summer
The Squire of Gothos
Ruby My Dear
Stazma The Junglechrist
Hadean vs Gash
Scheme Boy
Dave Skywalker
Demon Cabbage
Saint Acid
Thursday warm-up party with VENGABOYS
Plus Takeovers from…
Love Love / Off Me Nut / Jungle Syndicate
Wrong Disco / Chinstroke TV / Network Awesome
Motormouth / Geordie Gabba Mafia / Amen4Tekno
Amen-tal / Hard Crew Heroes / Amenstrual
Relapse vs Amented / Fractal / Aural Adrenaline
featuring…
Spongebob Squarewave / Beatwife / Kitech
Ben Pest / DJ Smurf / DJ HVAD / dgoHn / Vocoda
Matt Green & Traffik / Harry Riddick / Stivs
Mandi Dextrous / DJ Detweiler / Hashback Hashish
Qebrμs / Anorak / L3ft Luca5 / Dr. Bastardo
Kirsti / Ghost / Smyla / Al Twisted / Abba Gabba
Smiley Maxx / Phatworld b2b Superior Cornrows
Dave Shades / Scrase / Wit!? / Pixl / Disowned
Relapse & Dataklysm / DJ Love Love Recs / Dr...um
Rapidax / Matt:Scratch / Slinks / Bio-Kem / Champa B
Sub:Conscious / Raggamuffin 5.0 / Travesty / Relapse
Nian Dub b2b Semiotix / Iggy / Salvage / Kushti
The Bass Jedi's / DJ UEP / Hi-Viz / Stu Alcane / CUN7
Leisure Centre Allstars / Doomham / Wombcorps
Cervical Snare / Squif / Snyde / The Alan Carr Projekt
Jakazid / Tanuki / Matra Magic / Kendo / Krafty PK
Sams Myth / Killabomb / Skanky Ho / Bee Log
DJ Shag Girls / Tanooki Suit / Bluntly Speakin
LSD-Licious / The South Yorkshire Mick Hucknall
Daddy Long Legs / Maximum Bellend / Boogie Dave
The 2016 theme is POP MUSIC FAILS! Dress as your favourite wronguns from any era.
Massive thanks to Hard Crew Hero, Jim'll Paint It for the amazing poster!
With all the fun extras…
BFTV broadcast live to all chalets / Rave Pool Party
Inflataland / BF World Cup / Songs of Rave Sunday
BF Got Talent / Formula 303 Racing / Happy Hour
Plus Opening Ceremony with Altern 8's wedding!
Tickets sold in chalet groups of 2-8 people
http://www.bangface.com/events/weekender2016
BANGFACE - An Explosion of Acid, Jungle, Rave Hardcore,
Drum & Bass, Breakcore, Bass, Techno and Mash-up Electronica!
Last edited: