amazing that we have done 8 pages and it seems ? noone mentioned these 3 key canonical batman(TM) sources - all in need of decoding
1. the original tv series
Based on the comic book character of the same name, no origin for the character is provided within the series.
Since Cesar Romero refused to shave his trademark mustache, his white pancake makeup was applied over it. However it was still visible in many screen close-ups.[6]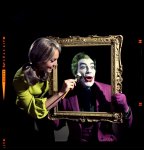 i don't recall him as being particularly creepier than any other baddy (esp not the obvs paedo penguin) , but these stories are how the characters became hardwired into the mythological dna and our young brains - too deeply to analyse the associations so many years later. I don't recall the episodes in any detail, they are hard to watch now, primitive, but i'd not be surprised to find some heavily laden symbolic narratives in there.
2. fast forward to the first "dark knight" - the 80's "graphic novel" re-imagined batman & joker as right nasty hard cases - the whole scenario is much more dystopic and dirtier than the moore/bolland killing joke comic which came out about the same time iirc (droid wtf?).
there's a distinct frisson between the joker and the bat, but the whole telling is gratuitously brutal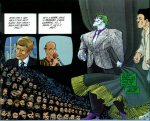 the transforming factor presumably is Frank Miller a grim misanthropic vision and i believe he is outed as a nasty rightist himself these days, which seems to make sense.
the trilogy had a hefty impact on comics, a re-imagining of super-heroes out of Miller's experience of 80's NY. I have seen it analysed in most ernest comic nerd lit crit fashion on youtube.
3. incidentally, that sexual tension is a big feature of the relationship in the excellent lego batman movie too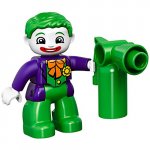 the cute joker constantly desperate to be bat's number 1 villain