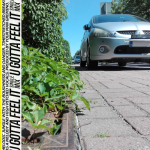 'U Gotta Feel It (single mix)' is second single from my forthcoming jungle album 'Jungle Technology'. Like in the previous single, there's oldskool hardcore stabs and uplifting chords, but now with hardcore's chipmunk vocals. These vocals combined with jungle's rough street sound creates a vivid sound.
STREAM/DOWNLOAD:
One of my favourite things in jungle has always been timestretched breaks as melody. Sounds indeed very technical and quirky, but bear with me, it's one of the coolest sounds. Also that technique isn't much used in new jungle, so now here's some!
'Jungle Technology' album's release date is aimed to be in late August/early September. Alongside digital, there will be small run of good old CD-Rs, in which artwork I have seen effort. They will be duplicated in a factory, so there's also printing in the disk.