the major conversations on dissensus at the moment are about social media etc as a kind of teaching machine
How we are tweaked and pinched and pulled and shaped by the responses we receive and by the responses we anticipate receiving. Locked into these teaching machines, something within us very, very alert to praise and scolding
eg You really get the sense of the 'culture' pulling people's bodies and faces into new shapes. Gym. High protein diet calorific surplus. Creatine.
fashion increasingly becoming as much about the body as about the clothes we wear
"what is this collective nervous system and where is it leading us? this matrix. stan's algorithmic god. vimothy think's it's blind. luka wants to seize the controls"
i think awareness of the process as it's happening is the important thing as opposed to submission to the process, so acheiving a meta perpespective on it, this is hard to do in any sustained way as our consciousness level dips below the necessary threshold constantly
this is why i said maybe music was a deconditioning program in the same way you can look at this
stuff
as a deconditioning program. does that make sense?
in the way that every conditioning machine pushed to its extreme becomes a deconditioning machine. beacuse you eventually see how it is operating.
as if there was a tipping point at which you have enough information to achieve the meta position.
Dissensus actually embodies this in some sense, you can get at it, in that the feedback you get can push and pull you in varying directions. If you picture yourself as the central pillar on the kabbalistic tree of life and receiving tugs and shoves from its various nodes, and those nodes taking the form of specific comments and reactions.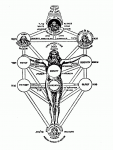 Last edited: