الفنانة ماجده اسماعيل بت تندلتي - The artist Magda Ismail bit Tendalti
Magda gets crowded out by the dancers on the podium, but is undeterred
Al-Mariod in the "zone"
edit: number on the speakers seems to be 0912611359 but my eyesight might not be that good
edit: typed the number into google and got
this
:
اولاد ياسين - Yassin's children
عغد حفل المناسبات - Tomorrow is the event party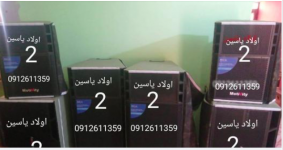 I was guessing a speaker hire firm? Except it says: "Musician/Band" ( "always open" ) and the video ( which I can't embed ) on the facebook page features the guy ( on the right ) who owns a camel and has some nice shirts and is one of the best dancers in Tandalty but who has been suspiciously absent from Tandalty sound videos for the last few months
and one of the videos I posted recently from "Jimmy The American" which featured Al-Mariod mentioned "Yassin's Sons" in the title, so maybe this is the real name of the Tandalty sound system? Can't believe it's taken me 18 months to figure out what might be the true name of the Tandalty sound system...
Last edited: